Offering up Puppy Training Classes, Puppy Socialisation Classes & Dog Training classes in Rugby
Hey dog owners, welcome to one of the friendliest dog training clubs around! We've got you covered for all things Puppy Socialisation with our

Fab Puppy Socialisation Club

& join in the training fun with our

Fab Puppy Training Classes

.
Making dog training fun, simple to follow & super successful is my kinda thing and I've been lucky enough to work with hundreds of dogs over the past few years.
We've got a few different things for you but if you have something specific in mind,

drop us a line

and let me know.
What our clients say
Anna has been amazing with our puppy Reggie and is always as excited to see him as he is to see her. She helped us with basic skills, such as recall but also spent time helping develop Reggie's confidence on the obstacles and trying him with the tunnel. She is always happy to provide extra tips and hints outside and is very responsive outside the classes. I highly recommend Anna
Anna is absolutely fantastic with both dogs and humans, her knowledge and passion shine through. I can't recommend her enough x
Anna is fantastic! I would totally recommend her to anyone wanting help and guidance for training their doggies. Myself and Chester (pup) have enjoyed two life skills courses that I feel have given Chester a great start to his training. You see results very quickly following Anna's methods of encouraging good behaviour. She is also amazingly friendly and approachable and has answers, ideas and solutions galore for all your puppy niggles and problems. We loved our time with her - thank you so much Anna x
As a family, we have loved working with Anna with our first ever puppy. She's patient and kind and created a relaxed and friendly atmosphere for us all to learn in. Her passion for what she does comes shining through. Our Cocker Spaniel Elsie clearly enjoyed the sessions, made some lovely puppy friends and we've all learned so much. Thank you Anna from all of the Clarke family.
We would highly recommend Anna Hope dog training and behaviour.
We have been with Roscoe on two fantastic courses and learnt so much and had lots of fun too .
Anna clearly knows her stuff and shows such a love for all the puppies and dogs on her courses.
Sending a big thank you to Anna for all your help and support and hope to see you again very soon .
Love Eve , Tom , The Girls and of course Roscoe 🐶😊xxx
Contact Us
Get in touch to start your journey to a happier and amazing bond between you and your dog.
Clever Training Tips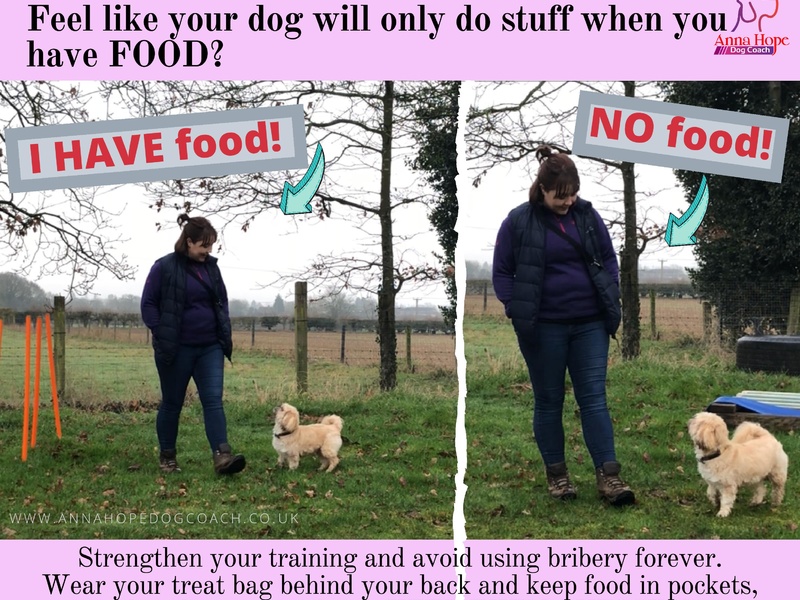 Why does this happen? What can we do about it? It's a very common dilemma that I see every day with the owners I work with and I understand how frustrating it can be when things seem to work and then they don't. One of the main reasons I see training fail when we aim to take it to the long term and in real life, is all about when we use food. If your dog likes food and we can use this to motivate them to want to do...
It's top of the list when it comes to what owners ask me about and it's a HUGE part of having a dog, right?! Why does my dog run off at the sight of another dog (insert distraction here)? How do I get them to come back to me, even when there are distractions around? Will I have to be on lead forever? I've got you covered! If I said 7 minutes might change your recalls forever, would you take it? If...