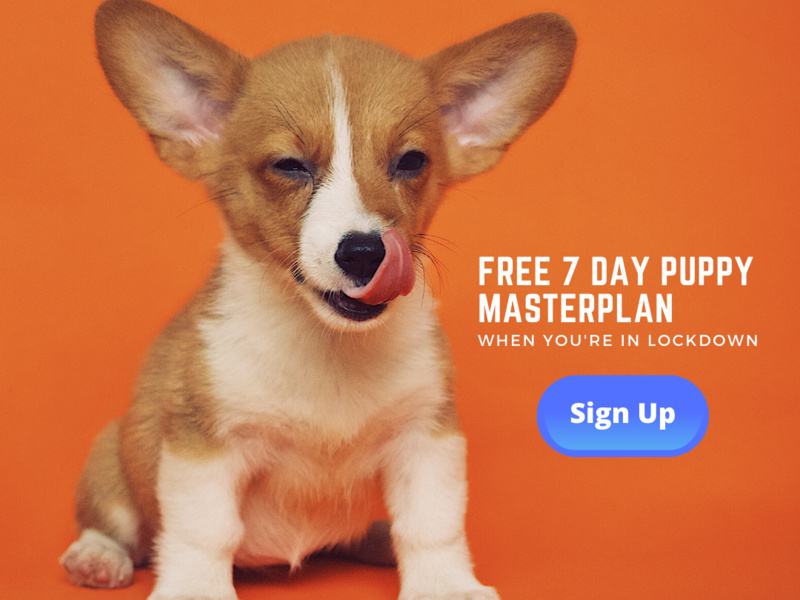 How to socialise your puppy in lockdown. by Anna Hope
Just got your puppy and training classes are cancelled…WTF do you do?! 🤷‍♀‍
My top 7 strategies for socialising in lockdown will help you to understand exactly how to make it a total breeze (and get the whole family involved too).
This is a free 7 Day Master Plan program for you, your family and your puppy. Sign up to have it sent straight to your inbox each day.
It's a scary time and we all need to stay safe, this means our plans for training our puppy are thrown out of the window.
Top questions flying in to my inbox from puppy owners, about lockdown:
🔺 How can we socialise our puppy?
🔺 We are limited to one walk per day, how can we start training?
🔺 We can't go within 2 m of other people, how can we expose our puppy to other dogs?
🔺 What if this lack of socialisation impacts my puppy and they become reactive?
🔺 What if they end up with separation anxiety once we go back to work?

☝️ All vital points.
We're living in lockdown but want our dogs to be totally fine when left alone, not reactive to dogs, be able to handle stuff like vet appointments, be super chilled with the kids or visitors and can go anywhere with us (when we can do that again). Pub anyone?! 🍷
If this sounds like you, then you're going to love our free master plan. 💜
Don't leave this stuff until after lock down...it's time critical.
Training a puppy + Working from home + the 'home schooling' thing =🤦
🔎🔎 Exactly what's inside my free 7 Day Puppy Master Plan:
✔️ My TOP 7 Strategies of how to make socialising when in lockdown a breeze, daily worksheets are sent straight to your inbox each day. Do these for 10 minutes a day in your living room! They're downloadable too!
✔️ My top activities you can do at home to help minimise any separation issues popping up.
✔️ How to get ready for the vets so your appointments go like a dream.
✔️ My easy ways to build strong training foundations that will take you through your puppies life (and make stuff like recall easy).
✔️ My super simple ways to build your puppies confidence so they are ready to face the big world when lockdown is over to help avoid issues such as reactivity.
✔️ Total time saver! Don't waste time endlessly searching for answers this is so easy to follow, 100% done for you and simple – you'll wonder why it seemed like such a big worry!
✔️ Totally FREE.
If these are top of your priorities then you NEED this Master Plan. 💜
I work with puppy owners just like you everyday and I know how a lack of exposure at this early puppy stage can impact a dog's life. We've got to get this done before adolescence.
Even if you're doing some things in the garden and carrying your puppy when you're outside – that doesn't go far enough.
🙋‍♀‍ GRAB it now...you won't find a plan as detailed and full of strategies as this which covers socialising, prepping for real life, how to avoid separation issues and possible reactivity issues that's broken down for you, step by step and FREE. 🤩
⏰ Available for a very limited amount of time only and will not be free forever, so grab it now whilst it's online, with super easy sign up.
Helping our puppies has never been so important and we can help each other to stay safe.
With this Master Plan your puppy will be ready when the normality of life kicks back in.
You will smash at training classes, have any day care open to your awesome dog, can take them to the pub or on holiday. 💜
Make the best of the times now and grab this FREE 7-day puppy master plan whilst it's available, just click sign up and it's that easy.
Can't wait to get you started - just let me know where to send your training plans to.